Latest News & Results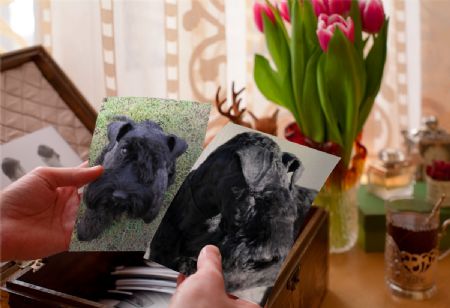 October 2017 - Ragen has given birth to a beautiful litter of 4 - 2 girls and 2 boys. The proud father is Gibson and he is also stocked. Mum and bubs are doing well.
July 2017 - I am so sorry for not updating this page more often - very slack of me. Phoebe certainly did have her litter of "Rebels" and we kept the gorgeous Rogue - Olizure Pure Rebelicious. Rogue has certainly made an impact on our lives as she definitely lives up to her name - in a great way.
December 2016 - We are excited to announce our upcoming litter due Jan 2017. Phoebe is going to be a mum again.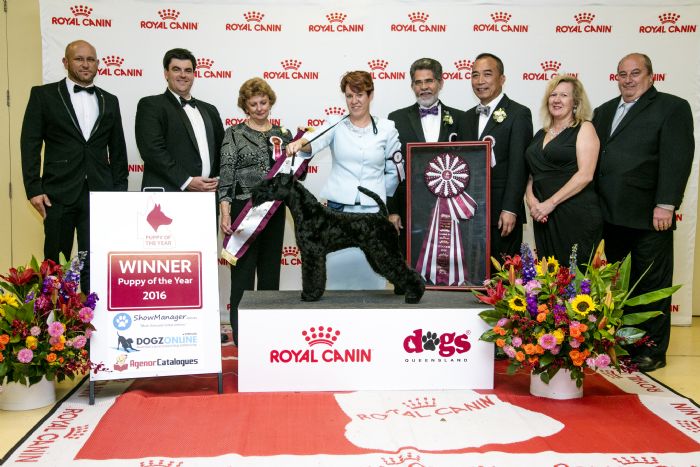 October 2016 - Wow !! What an amazing win for our young boy Gibson - Winner of Qld Puppy of the Year 2016 (pictured). Qualifying at one of the last shows for the year (and at his first time showing as a Puppy), Gibson was one of (if not the) youngest puppies qualified for this event and won in style competing against much older puppies. Phoebe is so proud of her gorgeous boy and we look forward to so much more fun in the showring with this boy.
July 2016 - It has been such a busy year with Phoebe's puppies and then Ragen's. We kept 2 boys from Phoebe's litter and both are growing up so quickly. Baxter and Gibson have both entered the showring a couple of times and had a few nice wins as well. We are so looking forward to seeing what the future holds for these 2 gorgeous young boys. I will really try to update this page more often and please remember, if you would like to join our Facebook page, just send me a quick message and we can add you to our closed group.
January 2016 - Phoebe's babies have arrived 4 boys & 1 girl. Everyone is doing well and the bubs are getting chubbier by the day :)
December 2015 - OMG !! Such exciting news !! Our beautiful Phoebe is going to be a mum to some very special "pupsicles". They are due early January 2016 ... so watch this space for updates. Also, don't forget to find our Facebook page [Olizure Kerry Blue Terrier owners] and send us a friend request if you wish to follow more closely with lots of pictures and videos when they are born.
August 2015 - EKKA 2015 - Brisbane Royal. Such a busy time of year for us with lambing season upon us as well as our Royal show for the Kerrys. This year we took Phoebe and Curtis. Phoebe looked and showed so well and won best bitch - a really great acheivment and we are very proud of her - see her photo page for pics of this gorgeous girl. Curtis attended his first EKKA with gusto, and had so much fun. He won 1st in the Baby Sweepstakes and also won the hearts of so many who watched on as he performed beyond our expectations. Each time he went into the showring, he enjoyed it more and more.
After the Royal finished, we had our Terrier Show where Curtis once again proved to be the star of the day by winning a Baby in Show against a large and quality line up of babies. See Curtis' profile page for pics of his latest wins or go to our March 2015 Litter page to see this boy from Baby to Baby in Show winner.
July 2015 - We have had a busy few months with our last March litter growing up and going to their wonderful new homes and with us also keeping the baby boy, Curtis - Olizure Mr Goodkat. He is so much fun to have around and we have taken him to his first show where he won Baby in Group. He made us so proud and we received a lot of lovely comments about him - even though he had his naughty moments.
Our other wonderful news is to announce that Cage can now be known as Australian Champion Olizure Fire Ice N Dynamite. He is such a show-pony in the ring, but still a Goofball everywhere else. He will now stay at home on the farm to finish maturing while we concentrate on baby Curtis
March 2015 - We have the pleasure of announcing the arrival of 2 girls & 1 boy on the 6th March 2015. They are gorgeous as always and the boy is so much like his dad. I can't wait to see them grow up. I have still not found the chance to get a good picture of these puppies' older brother Cage. He is continuing on with his success in the show ring, just like his lovely sister Daisy who has not only had a number of lovely wins herself, but she has also acheived the requirements needed to be now known as Australain Champion Olizure Whiskey No Ice - thank you Lesley for all you have done for this girl.
Feb 2015
- We have the pleasure of announcing our next litter due early March. Keep an eye on our website for more details. If you are interested in a Kerry puppy, either for show or companion, pls feel free to contact
us.
** We have now created our own Facebook page for our Olizure Kerry Blue owners which will let you connect to other owners of our Kerrys. This is also a place where we will add new updates and pics/videos of our kerrys for everyone to enjoy. If you are on Facebook and wish to join this group - just contact me either via email or my facebook page [Pauline Oliphant] and I will add you. It is a closed group, so only members of our group will be able to view and post items of interest. **
Jan 2015 - It has been a while since I have updated this page with our news - so firstly, sorry :) Anyway, a new year is upon us and we hope that everyone's expectations for the upcoming year will come true and that it is a joyous one for all. We have ventured back into the showring with our boy "Cage" and he has had a number of nice Puppy in Group wins as well as his first Best in Group (Group 1st) & Puppy in Show - Well Done Young Lad !! He makes us laugh each day with his antics and we are so very proud to have bred this boy. I promise to get a nice picture of him soon to add to our website.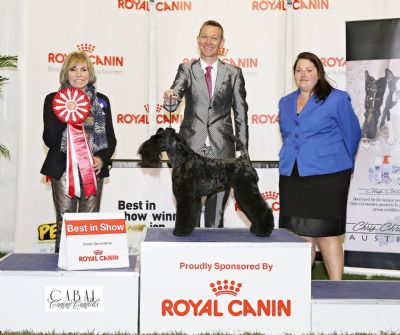 A
ug 14
- A great start to the month for our girl in Sydney - Ragen. Not only did she win 1 x BEST IN SHOW & 2 RUNNER-UP IN SHOWS, she also won the final points for her Grand & Supreme Championship Titles. She is now known as not only as the gorgeous Ragen, but also AUSTRALIAN SUPREME CHAMPION OLIZURE HELL ON HIGH HEELS. She is our 3rd Supreme Champion that we have bred - joining her dad, Guinness and her older brother, Smith.
So very proud of everyone involved.
<- And then to finish August off with a BANG !! Ragen won BEST IN SHOW at the very highly regarded Spring Fair show on Saturday 30th Aug held in Sydney, under a full International panel of judges. As her breeder and part-owner, this win could not make me more proud. She looks amazing - see Ragen's page for more photos of this gorgeous girl.
Jul 14 - It has been a quiet few months. We have been able to catch up with a few friends from Interstate, but overall, not much to report. We did say goodbye to Daisy, Olizure Whiskey No Ice, as she went to her new mum in Melbourne, where she will hopefully become a show-girl, but if not, we do know that she is truly loved. Bye Daisy and pls don't pick on your new brother Paddy too much :)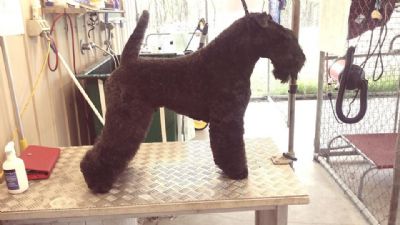 Jun 14

-

This is a picture of our boy Smith. He was groomed by a very talented and good friend Mitchell in a grooming
competition held on the Gold Coast in June. We were so very proud of both Smith and Mitchell who won a very impressive 2nd in his section. Smith thought that he looked very sexy and as soon as we got home, we had to take this pic of him. Mitchell is also the owner of Ch Olizure Dirty Secrets - Ruffo. Come back again soon Mitchell, as I can always do with an extra pair of scissor-
hands in order to keep my crew looking their best.
Apr 14 - As we will not be able to get to many shows this year, we will not be participating in any pointscores. We have so much to catch up on around the farm, so have decided to have a nice break this year from showing. This will also gives us a chance to let Phoebe and our new youngster to grow up a bit and come out again next year. We will certainly miss catching up with friends at the show, but will not miss the early starts LOL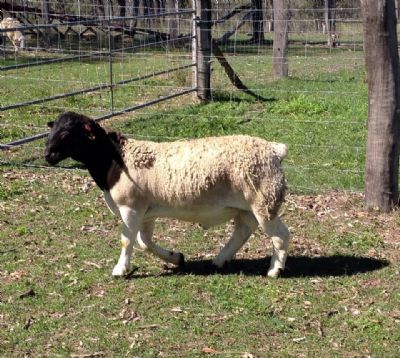 April also saw us take a road trip to SA to pick up our new addition to Olizure Stud - Updales Nero 1355, a beautiful young Ram who will certainly help to improve our Dorper sheep. We are so happy to finally have this boy in our paddocks and know that when he grows up a little more, he will certainly Type 5.
Mar 14 - We finally got to a couple of shows and had some great results. Kingsley managed to get his last few points for his Australian Championship title - and boy, did he do it in Style :) Not only did he get his last few points - He also won RUNNER UP IN SHOW !! We were so proud of him and now he can have a well deserved break from showing - as it really isn't his thing.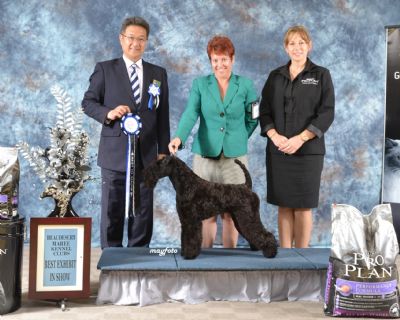 Then not to be outdone, our little Phoebe also got her last points towards her Australian Championship title - but she did 1 better as she won her first BEST IN SHOW. And unlike Dad, she loves to go to the shows, so I am sure she will be back out in the showring later in the year. ---->
Feb 14 - What an exciting month Feb is. My good friend and I went to the USA and watched one of the most prestigious Dog shows in the World - Westminster which is held in the middle of winter in New York. It was a great experience and one that I will never forget. We met some great people and some lovely Kerries.

We also welcomed to the world a lovely litter of Kerry babies. Spy is such a great mum and her new brood or 4 girls and 1 boy are growing up so fast. Looking forward to seeing them grow into gorgeous kerry bundles of joy.
Jan 14 - Happy New Year and hopefully everyone will have a great year in 2014 :)
Kingsley has finally gotten back into the showring and had a great start. He won 2 x Best Terrier in Groups and also gained 75 points in 3 weeks towards his Aust. Championship. We are so proud of this young man now that he is maturing nicely. Phoebe also won a couple of Puppy in Groups as well. After having a long break from showing it was lovely getting back out there again.
Dec 13 -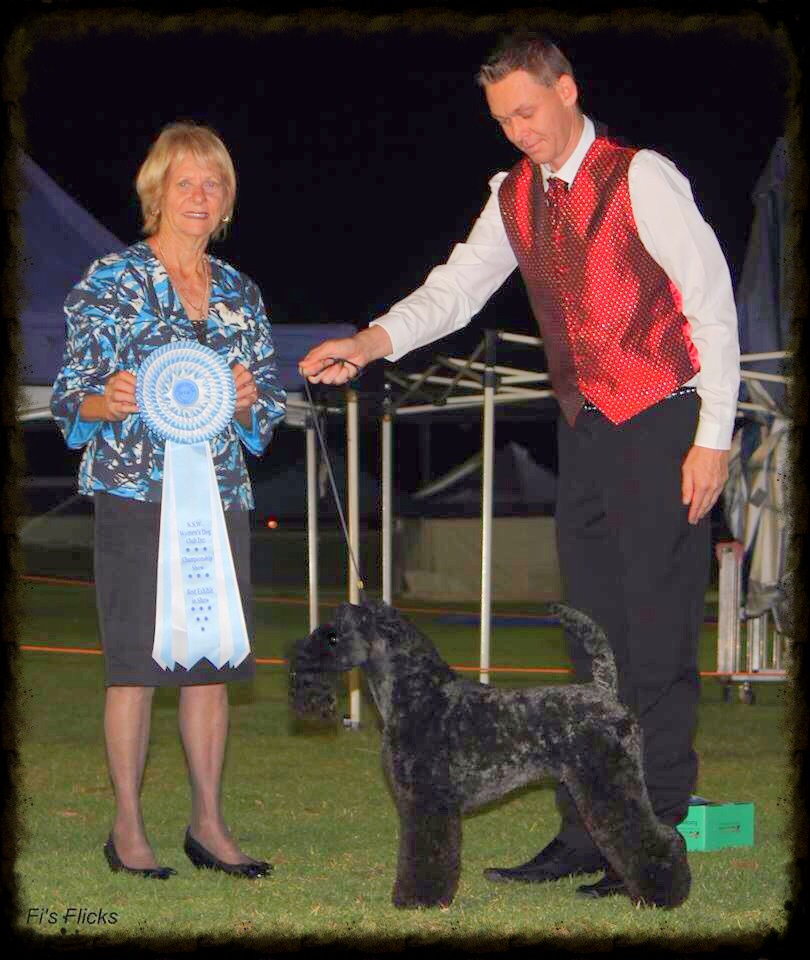 <--- In Sydney, we received some fantastic news from our wonderful show friends Dean & Kylie, who are also co-owners of our gorgeous girl Ragen "Ch Olizure Hell On High Heels" - She won BEST IN SHOW (All Breeds). Well done to Team Ragen and I am sure it will not be her last time winning this top award.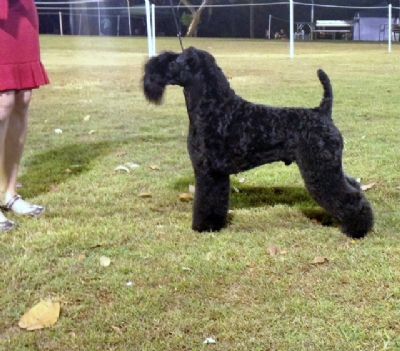 Nov 13 - What a start to the month. We decided to take Guinness to a show as a Veteran as he is now 8 years old and hasn't been shown for at least 18 months - how time has flown. Boy did he love it. As soon as he realised that he was at a dog show, you could see the joy in his face. He bounced out of the car when he realised where he was. To say that he flew around the ring like he was still in his prime, would be an understatement. He won Veteran in Show but more importantly, I didn't realise that he had such a fan club and that he would enjoy it so much. There was a loud applause when he came out of the ring and so many people came over to say hi to the old boy. I am sure that he will be seen in the veteran class again in the future.flew around the ring like he was still in his prime.
When he won Best Veteran in Show, there was a big applause and when he came out of the ring, many of his friends came over to see him and to give him an extra cuddle as he has been missed by many. Well Done Guinness, and I am sure it wont be your last time to venture back in the limelight.
Oct 13 - What a hot !! But relaxing month. We have stayed home and caught up on so much. I did have to go away quickly for a work conference, but the rest of the time we spent with our little time wasters - the kerry puppies :)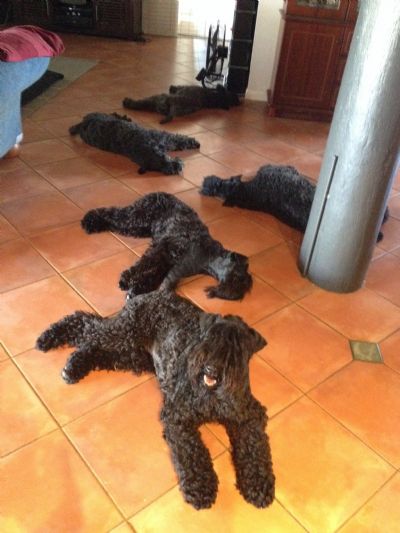 <-- And as you can see, our Kerry Kids also spent a lot of time just catching up on well deserved family time LOL
Sept 13 - A bit of a mixed emotions this month. We are so happy to have welcomed into the world 5 beautiful Kerry babies (4 girls & 1 boy) and all are doing so well. A beautiful litter of lovely, healthy Kerry kids and we have found fantastic homes for them all. We look forward to adding these new families to our Olizure group of friends and we hope for many years to come, we will receive updates on all their comings and goings.
The sad news is that Smith - Supreme Champion Olizure Betta ThDevil Uknow has been officially retired from the show ring due to a broken tooth. Unfortunately broken teeth are penalized in the show ring and as our boy has already won some amazing things in his career over the years, he does not need to further prove his worth to us - Not that this has ever been needed from this gorgeous boy as he is a very special boy either on the farm or in the showring. As they say, one door closes and another door opens. We look forward to a bright future with this boy in other endeavors.
So due to these things, we have decided to take a bit of a break over the next few months from showing and concentrate on spending time at home with our gorgeous kerry kids as well as catching up on the many things that are needed to be done at home and around the farm. There will be the very occasional show, but not very many.
Aug 13 - Well it is EKKA time again and once again our fur kids did us proud. This time Ragen won Best of Breed and Smith won Best Male. The big surprise was our little Phoebs - she beat Smith for Runner-up of Breed and Puppy of Breed - What a star :)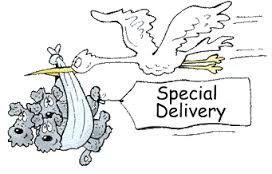 We also got the news that we are expecting another beautiful litter of Kerry puppies due mid September (see our Puppy Page for more details) We are also very excited as we are on Baby Lamb watch and are expecting some gorgeous Phoenix babies from mid-August.
July 13 -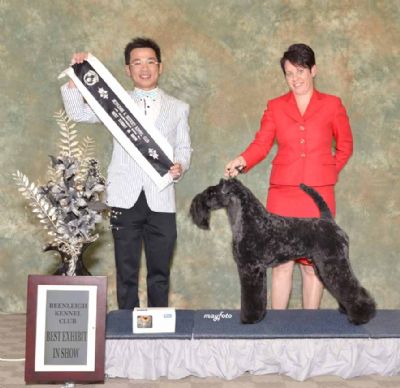 Well July has started off great. We are back in the showring and Smith wins another BEST IN SHOW!! His 3rd this year and 9th to date. And this wasn't a small show either - it was under a full Internation panel of judges and a large entry. Phoebe didn't hide in her half-brother's shadow either, show won Baby In Group at the same show - love this cheeky little might - check out her cute pic on her very own page>
We also had a quick trip down to Sydney for NOTH Shows and to also catch up with our friends. Phoebe was a star again by winning 2 baby puppy in Groups and also the hearts of everyone she met. It was great to catch up with friends and it was a really good trip away.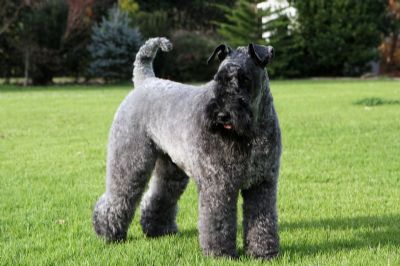 June 13 - I received a great photo this month of our beautiful boy Jack - Olizure Hell Below Zero, from his lovely family. Jack is about 2 and a bit years old now and is also Ragen's litter brother. He is a beautiful colour, but also a fantastic boy - we still miss him so much.
We also managed to get down to Tassie for a quick visit of Kingsley's puppies. And what cuties they are. I know that if I didn't have Phoebe, I would have snuck home with a little Yellow collar girl :)
May 13 - We have really been enjoying spending most of our weekends at home catching up on little projects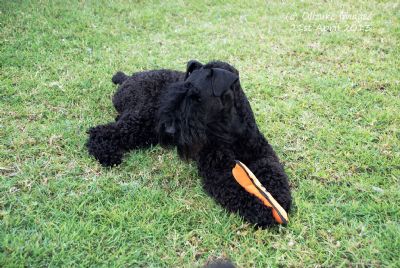 that we need to do. Ruffo did get out to a couple of shows and is now to be known as Champion Olizure Dirty Secrets - Ch Ruffo to his mates. Many thank-yous to both friends (who helped show this lad) and judges (who saw the quality of this boy) - a very deserved Champion - This pic was taken when he got home after winning Group 2nd and Inter in Group. He is such a goofball and knows how to go from Showdog to Homedog in minutes LOL
Kingsley also became a dad for the 2nd time. We wish Irene and Maeve (Ch Olizure Devil May Care) all the best with their little bundles of joy.
And to top off the month - Smith Won his 8th BEST IN SHOW :)
April 13 - We have had a very quiet year so far with regards to showing due to weather and our litter. We did managed to get to Sydney Royal at the end of March (results below) and also to Sunshine Coast kennel Club show held 14th April. And what a show we had :) Smith won another BEST IN SHOW. So proud of our lad and we had such a great time catching up with a couple of friends at the show and the win was a bonus.
Mar 13 - Sydney Royal - 7 Kerrys entered (1 absentee)
Best of Breed / BCC - Ch Olizure Hell on High Heels "Ragen"
Runner Up of Breed / DCC - Sup Ch Olizure Betta ThDevil Uknow "Smith"
Res. DCC & Puppy of Breed - Clearbrook The Wizard "Merlin"
Ragen went on to be Top 8 Terrier and looked fantastic - so proud of our kerry kids - another great Royal for Olizure. A huge thankyou to Wendy for letting us stay with you and also a BIG CONGRATS on your Best In Show Grooming Competition win at Sydney Royal. You presented Ragen's sister, Nellie - Olizure Hellovagal, for the grooming comp. amazingly - A well Deserved Win !!
The bubs also went off to their new homes and are very much loved by their new families. All the best and I hope your lives together are full of lots of love and laughs.
Feb 13 - We welcome to the world Ivy & Kingsley's babies and it is with much joy that we get to share the begining of these babies lives and hopefully start them off on the right track to a fulfilling and lovefilled life.

Over the next 2 months, our priority will be at home with our babies and therefore, we will not be out at the shows as much as we usually are - instead, we will be enjoying puppy breath and spending lots of time with our new little time wasters :)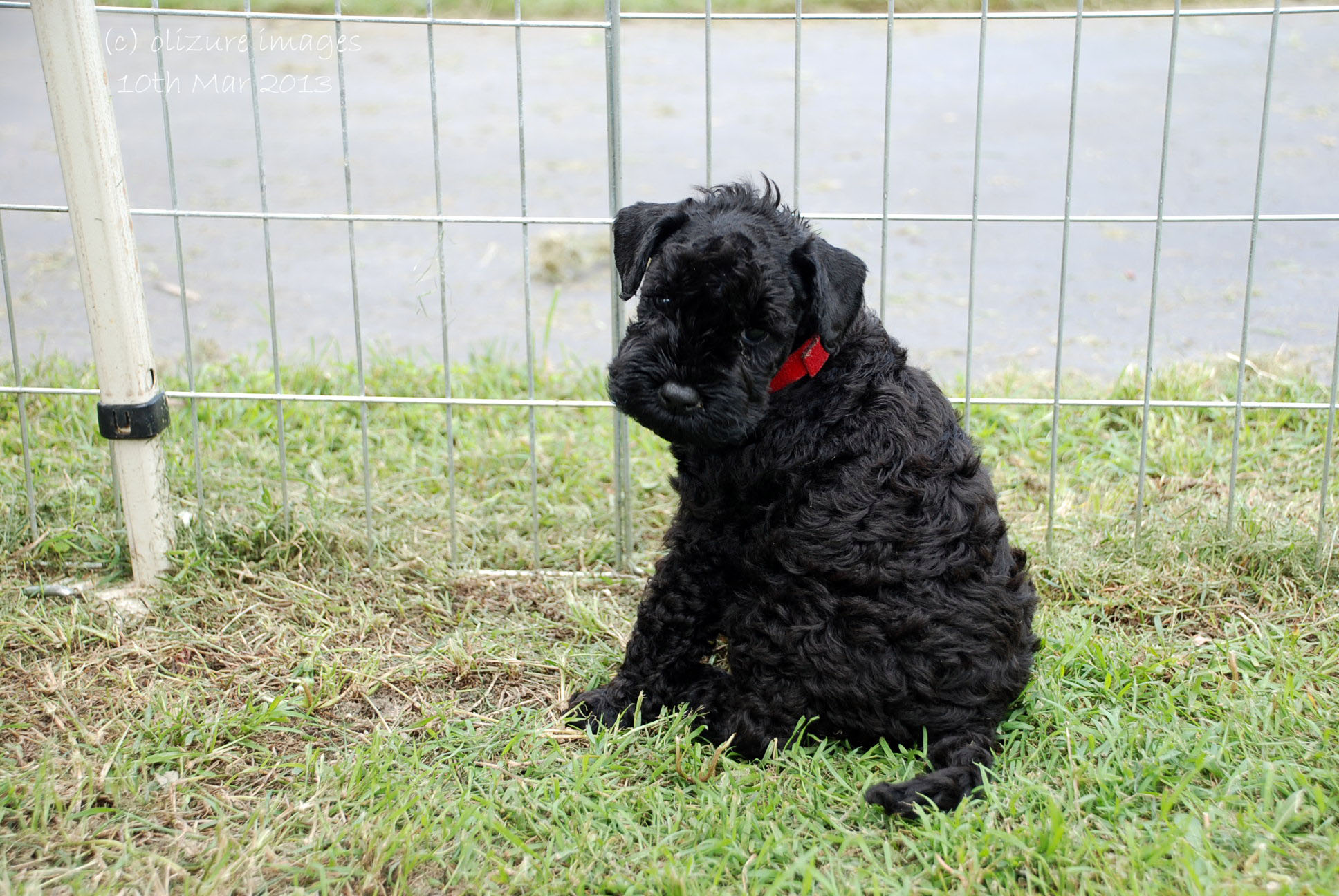 I have also decided to set myself a challenge with taking a photo each week of the beautiful girl that we are keeping from this litter - Phoebe (which means bright & pure - and is in memory of her Granddad Austin - Gr Ch Blueprint Pure Blu (NZ)). Find her pics on her own page - Phoebe - A photo a week challenge.
Jan 13 - Due to the extreme heat in Qld, we opted not to show at any of the shows that we had entered. Our Kerrys are much loved family members first and foremost, and as such, keeping them home in the cool means more to us than any ribbon
2012 - News at Olizure....
2012 Highlights...
Olizure...
#1 Kerry Blue Terrier (KBT) Breeder in Australia
2 new Australian Champions - Spy & Darcie
2 new Supreme Champions - Guinness & Smith
Smith...
#1 KBT All-Breeds in Australia
#2 Terrier in Qld
#4 Terrier in Australia
Qld Dog of the Year 2012 Winner (All Breeds)
Winner of 2 Royal Group 1st (Brisbane & Toowoomba Royals)
4 All Breeds Best In Shows
2 All Breeds Runner Up in Shows
Multi Group 1st winner
Youngest KBT Supreme Champion
Guinness...
Group 1st Sydney Royal 2012
1st KBT Supreme Champion
Ragen...
#1 KBT (Best of Breed) in Australia
Multi Group 1st Winner
& Multi Royal Challenge winner
Dec 2012 - We started the month off with a BANG!!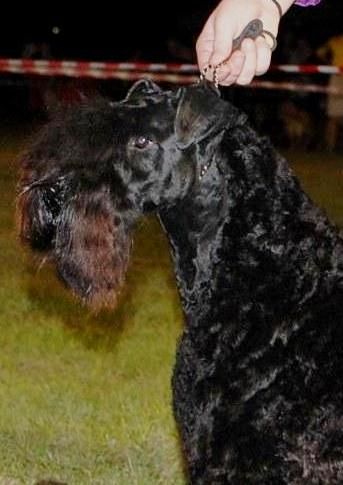 Lockyer Valley Kennel Club 1st Dec 2012 - 5 Kerries entered (no abst.)
Best of Breed & Best in Group & RUNNER UP IN SHOW - Sup Ch Olizure Betta ThDevil Uknow "Smith"
Puppy of Breed & Runner Up of Breed - Olizure King of Kings "Kingsley" - We are so proud of our Kerry kids and especially proud of our young boy Kingsley. He is starting to mature into a lovely young lad and is now stepping up to the plate when it counts. He won Runner Up of Breed over more mature competition (including a Multi Best in Show winner) and also won puppy of breed over another young puppy - so very proud. (right is a quick pic. taken that night of the little star)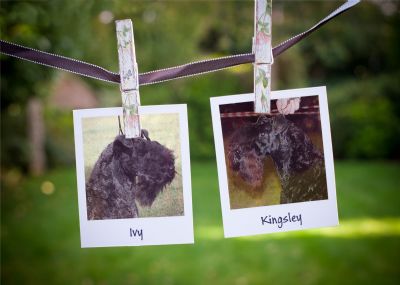 We have also now confirmed that we are expecting a beautiful litter of Kerry Bubs due 1st Feb 2013 - see our Puppy Page for more details and the proud parents left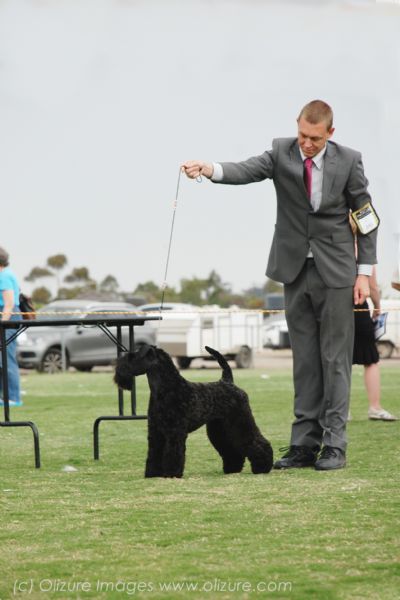 Nov 2012 -
I attended my first Melbourne shows in many a year this month and had a fantastic time catching up with many terrier friends from this neck of the woods. I went to both Vic. Womens KC & the prestigeous Sunbury KC. The first day saw only 2 kerrys shown - Ch Olizure Hell on High Heels "Ragen" & Olizure Secretn ThPower "Darcie". Ragen won BOB, and then went on to win Group 2nd - WOW!! Such a great win for a lovely young girl !! Darcie won DCC & Runner Up of Breed. (cute pic of Ragen in G.S)
The next day, Sunbury KC, saw 3 kerrys shown. This time around, Darcie won BOB and Ragen won BCC & Runner up BOB - so another great win for our Olizure kids. Ragen then went on to win Intermediate in Group. Darcie also won the final points for his Championship title over this weekend, so I was very happy to see another Olizure Champion added to our kennel. Well Done Max and Ch. Darcie :)

Late in the month we showed at our 1 and only show for November -
Lockyer Valley Kennel Club 30th Nov 2012 - 5 Kerries entered (no abst.)
Best of Breed & Best in Group - Sup Ch Olizure Betta ThDevil Uknow "Smith"
Puppy of Breed & Runner Up of Breed - Olizure King of Kings "Kingsley"
Oct 2012 - Qld Dog of the Year 2012 [All Breeds]
Smith wins this great event with all clear rounds and becomes Qld [All Breeds] Dog of the Year 2012. 4 Years ago Guinness (Smith's dad) was Runner Up Qld Dog of the Year 2008, and now his son goes 1 better. We are so proud that we bred, owned, groomed and handled both these 2 great Kerry Blues and they have certainly proven themselves once again.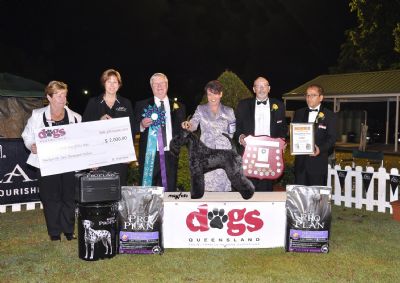 - Dorper news... We welcome to our farm 5 beautiful baby Dorper sheep [2 ewes & 3 rams] who have been born over the past 2 weeks. Pics have been added to our dorper website.
Sept 2012 - Smith wins 3 back to back BEST IN SHOWS [ALL BREEDS]
Allora Kennel Club Inc - Judge Mrs R Ralphs (NSW), Darling Downs Kennel Club - Judge Mr M Derbyshire (NSW) & Maree Kennel Club - Judges Mr B James (group) / Miss M Davis (general specials)

- Dorper news... We have now also added our beautiful Stud Dorper Sheep to our website - Check it out when you get a chance.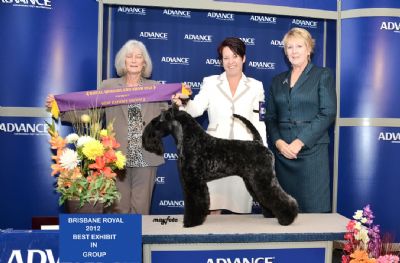 Aug 2012 - BRISBANE ROYAL 2012 - 6 Kerrys entered (2 absentees)
Best of Breed - Sup Ch Olizure Betta ThDevil Uknow "Smith" - Smith then goes on to win GROUP 1ST. (pictured left)
Runner Up of Breed / BCC - Ch Olizure Hell on High Heels "Ragen"
Res. BCC - Ch Olizure Secret Society "Spy"
Jul 2012 - Guinness becomes Australia's first SUPREME CHAMPION Kerry Blue Terrier. We are so proud of this lovely boy and all that he has done over the years. He is now known as SUPREME CH Olizure Lieka Pint.
Smith wins his 3rd BEST IN SHOW [ALL-BREEDS] under Mr R Cleland (SA). Even though Smith already had the required number of group 1st wins to become a SUPREME CHAMPION, we are pleased to announce that he now has the required Best in Show wins as well. This has made Smith the youngest SUPREME CHAMPION Kerry Blue Terrier in Aust to date.
May 2012 - It is with a very heavy heart that we say goodbye to our beautiful Tango. Taken from us way too soon by a suspected snake bite - unfortunately we were too late to do anything for him - he will forever be in our hearts and live on through his beautiful children - Ruffo, Darcie, Spy, Coco, Kingsley, Merlin & Joy.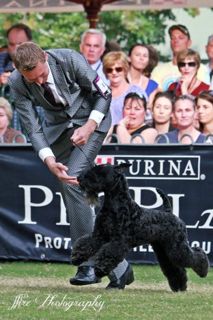 Apr 2012 - SYDNEY ROYAL 2012 - 9 Kerrys entered (no absentees) - mid April
Best of Breed - Gr Ch Olizure Lieka Pint "Guinness"
Runner Up of Breed / BCC - Ch Olizure Hell on High Heels "Ragen"
Res. DCC / Puppy of Breed - Olizure Dirty Secrets "Ruffo"
Guinness then goes on to win GROUP 1ST (pictured right) with over 360 terriers entered. A great royal result for Olizure :)
TOOWOOMBA ROYAL 2012 - 6 Kerrys entered (1 absentee) - early April
Best of Breed - Gr Ch Olizure Betta ThDevil Uknow "Smith" - Smith then goes on to win GROUP 1ST.
Baby of Breed - Olizure Secret Society "Spy"
Mar 2012 - Smith's coat has finally grown back just enough to get back into the Showring and what a way to do it - Smith wins GROUP 1ST & SHOW 2ND at his first show weekend back in the ring for 2012 after having a few months off. [1000 + entries]
Jan 2012 - Not a great start to the year as Smith had to have an operation to remove a grass seed from the back of his neck. The great news is that he had the op. with no complications and is recovering well. The bad news, is that due to having his neck shaved, he will be out of the ring for a couple of months. Oh well, we can now concentrate on our new little bubs born 30th Dec 2011 - 5 boys - The litter of "Kings"
Contact Details
Barry & Pauline Oliphant
Lowood, QLD, Australia
Phone : 0419 023 950 / 07 5426 2856
Email :
[email protected]